Apple cider vinegar hair rinse? I understand the idea of using apple cider vinegar to rinse your hair sounds a little strange.
I was hesitant before incorporating apple cider vinegar into my hair care routine (using this raw apple cider vinegar). Walking around with apple cider vinegar hair was the last thing I wanted to do.
But, after much study on the hair and skin advantages of apple cider vinegar, I decided to give it a try. I initially tried a DIY apple cider vinegar face toner instead of my regular toner, and the results were fantastic.
I also started learning more about the potentially hazardous chemicals in traditional cosmetics and skincare products, eye-opening. My skin transformed as I worked to replace my cosmetic items with safer alternatives, and my hormonal acne and imperfections vanished.
I began experimenting with an apple cider vinegar hair rinse not long after. There was little information accessible when I began experimenting with my ACV rinse recipe.
I started from the ground up and spent months refining the recipe.
Apple cider vinegar is now one of my go-to products for keeping my skin and hair looking great. While apple cider vinegar has several health advantages, both orally and externally, one of my favorite uses is hair rinse.
Haircare with Apple Cider Vinegar
Apple cider vinegar (ACV) is a popular health food and condiment. It's created using apples and enriched with living cultures, minerals, and acids through fermentation.
As a home cure, ACV may be used for a variety of ailments. One of these uses is a hair shampoo to help scalp health, hair strength, and shine.
Despite being under-researched, ACV is lauded as a home "panacea" or "cure-all" for health problems. The advantages and science behind ACV deliver when it comes to hair care.
Apple cider vinegar may be an excellent natural treatment to try if you have hair problems like the itchy scalp or hair breakage.
What is the Apple Cider Vinegar Rinse purpose?
Here are the fundamentals of how apple cider vinegar works to give you the confidence to pour it on your head.
A follicle and a shaft make up your hair, which is a two-part structure. Sebaceous glands are located just beneath the skin's surface and release sebum through the hair follicle. This oil, which is part of the acid mantle, lubricates your hair and skin. Your acid mantle is a thin, slightly acidic coating that protects and preserves the health of your hair and skin.
Your acid mantle greatly influences your hair's look. The cuticle, also known as the outer covering of the shaft, is made up of closely packed overlapping scales. The acid mantle helps cuticle scales lay flat, giving hair a lustrous, smooth appearance and protecting it from moisture loss.
Unfortunately, this mechanism is vulnerable to attack. If you've ever had a terrible hair day, it's probably because your acid mantle has been disrupted.
The pH of the acid mantle is usually about 5, indicating that it is somewhat acidic. Many hair care products, treatments, and shampoos are alkaline (pH more than 7), contaminating or removing the acid mantle.
A Bad Hair Day's Physiology
Hair expands, and the cuticle scales open as the acid mantle becomes alkaline. Your hair will be more prone to breaking as a result of this.
It also causes frizzy, brittle hair that appears "dull" because the hair absorbs rather than reflects light. It's photo day!
Other variables that can disturb the acid mantle include stress, nutrition, and sweat. So, returning our hair to its normal pH and preserving the acid mantle is critical for robust and healthy hair.
What is the benefit of using raw ACV?
Apple cider vinegar in its natural (or unfiltered) form is merely a by-product of apple fermentation. Potassium, pectin, malic acid, and calcium are all abundant in apples.
Fermentation boosts the number of helpful acids and enzymes in the final product. Raw apple cider vinegar is favored over pasteurized apple cider vinegar because it retains all of the nutrients in the vinegar.
Because apple cider vinegar has a pH of about 3, it helps balance the pH of your hair when appropriately diluted with water, resulting in many happy hair days.
The Benefits of Apple Cider Vinegar Hair Rinse
There are several advantages of using apple cider vinegar. You'll notice some pretty significant changes in how your hair looks and responds if you dilute it appropriately and apply a rinse regularly.
Acidity and pH
For one, apple cider vinegar — beyond having some well-researched health properties — is an acidic substance. It contains good amounts of acetic acid.
Hair that looks dull, brittle, or frizzy tends to be more alkaline or higher on the pH scale. The idea is that an acid substance, like ACV, helps lower pH and brings hair health back into balance.
Antimicrobial
ACV is also a popular home disinfectant. It may help control the bacteria or fungi that can lead to scalp and hair problems, such as minor infections or itchiness.
Other claims
Apple cider vinegar is praised for being rich in vitamins and minerals good for hair, like vitamin C and B. Some also claim it contains alpha-hydroxy acid which helps exfoliate scalp skin, and that it's anti-inflammatory, which can help with dandruff.
Hair that is beautiful and frizz-free: Apple cider vinegar is high in elements that promote healthy hair growth, such as B vitamins, vitamin C, and potassium. It also helps to restore the acid mantle's normal pH because it's somewhat acidic.
The outer layer of the hair hardens, and the cuticle flattens due to exposure to this acidity, resulting in hair that shines, glides smoothly, and is less prone to tangling or snagging.
Clears Out Inventory Build-up: Apple cider vinegar also includes natural alpha-hydroxy acid, which gently exfoliates the scalp and hair, removing dead skin cells and buildup caused by sweat and conventional hair treatments. It enhances hair look, decreases irritation, and provides for more style options.
Apple cider vinegar's antiviral, antifungal, and antibacterial qualities can help restore balance and reduce dandruff in people who suffer from scalp-related disorders, including dandruff. Aside from being antibacterial, apple cider vinegar is also anti-inflammatory, which can help with dandruff and a dry, flaky scalp.
How Do I Care For My Hair With Apple Cider Vinegar?
While it may appear strange at first, you may easily include apple cider vinegar into your regular hair care routine. To get the advantages, use this quick and easy hair rinse once a week.
To begin, combine three tablespoons of apple cider vinegar with 1 3/4 cup water. Use four tablespoons of apple cider vinegar if you have oily hair or scalp problems like dandruff. (Hint: four tablespoons equal 1/4 cup, so the measurements are simple!)
Pour the rinse over your head while leaning back and massaging it into your scalp. Avoid coming into touch with your eyes.
Allow 1-2 minutes for the mixture to settle on your hair. After that, rinse your hair with apple cider vinegar. When your hair is dry, it will look lovely and will not smell like apple cider vinegar.
Can I Use Apple Cider Vinegar If My Hair Is Colored?
Yes! Apple cider vinegar is safe for all hair types, even color-treated hair, according to experts. If you have color-treated hair and want to eliminate buildup while keeping your beautiful color, ACV is the way to go!
A few hints and tricks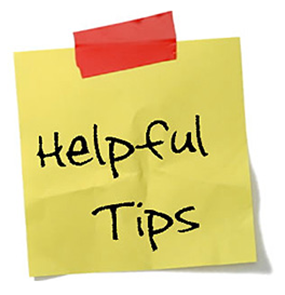 Depending on your demands, the amount of apple cider vinegar you use in the recipe may vary. Start with three teaspoons if you have susceptible skin. If you're still not seeing results, up to four tablespoons.
As a general rule, dry hair will benefit from less apple cider vinegar, whereas oily hair or scalp concerns like dandruff will benefit from more apple cider vinegar.
Start by using this rinse once a week, as if it were a treatment. If it works well for your scalp, you may increase it to twice a week. If you have drier hair, you may want to use this hair rinse once or twice a month.
Pouring the contents into a 16 oz plastic squeeze bottle is the best method to combine the mixture. You may also use a big silicone pourable measuring cup for this. Purchase a set for your shower!
Your hair will no longer smell like apple cider vinegar once you've rinsed it off and let it dry.
You may cut your total rinse in half if your hair is shoulder length or shorter. As a result, combine 1 cup cold water with 1-2 teaspoons apple cider vinegar.
After rinsing the apple cider vinegar out of your hair, add your conditioner to the ends of your hair as usual.
DESCRIPTION
This super-easy apple cider vinegar hair rinse has a lot of hair and scalp advantages. It not only promotes strong and healthy hair, but it may also aid in the reduction of scalp problems such as dandruff and the removal of cosmetic product buildup on the hair and scalp.
INGREDIENTS
SCALE
3–4 tablespoons apple cider vinegar, unpasteurized
1 3/4 cup cold water
2–3 drops lavender essential oil (optional)
INSTRUCTIONS
You should shampoo your hair. Rinse well with warm water.
In a 16 oz plastic squirt bottle or big cup, combine the apple cider vinegar, water, and essential oil (if using).
Pour the rinse over your head while leaning back and massaging it into your scalp. Avoid coming into touch with your eyes.
Allow 1-2 minutes for the mixture to settle on your hair.
Rinse the apple cider vinegar out of your hair thoroughly.
The 10 Best Apple Cider Vinegar Hair Care Products
Apple cider vinegar has recently emerged as a hair and skincare hero ingredient.
Apple cider vinegar is increasingly being used to make professional products. Most notably, it's taken over the world of hair care, with a slew of clean and natural businesses including the substance into their offerings. Here are a few of our favorites.
Smooth Shine Apple Cider Vinegar Finishing Rinse by Avalon Organics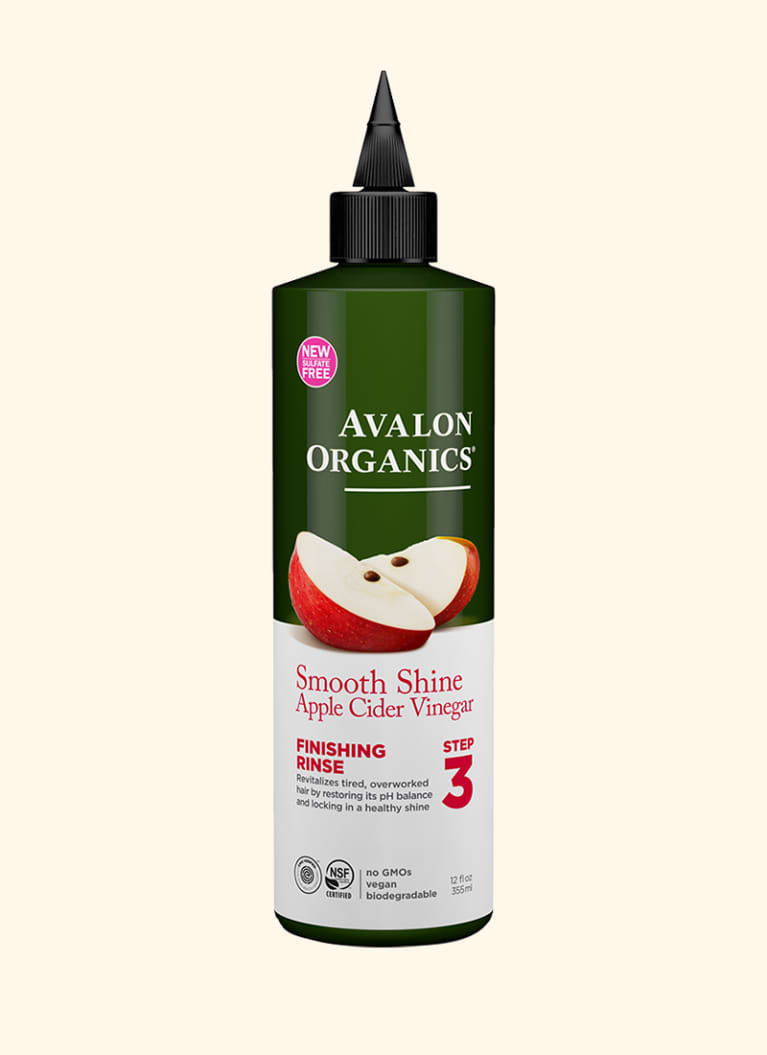 Even if you don't want to do things yourself, this is the next best thing to your original organic apple cider vinegar rinse.
It's prepared with various hair-healthy components, including cinnamon oil and black cumin seed oil, and is skillfully diluted to have the ideal pH. Avalon Organics is also EWG-certified.
Avalon Organics Smooth Shine Apple Cider Vinegar Finishing Rinse ($11)
Natural Balance of AG Hair Sulfate-Free Apple Cider Vinegar Shampoo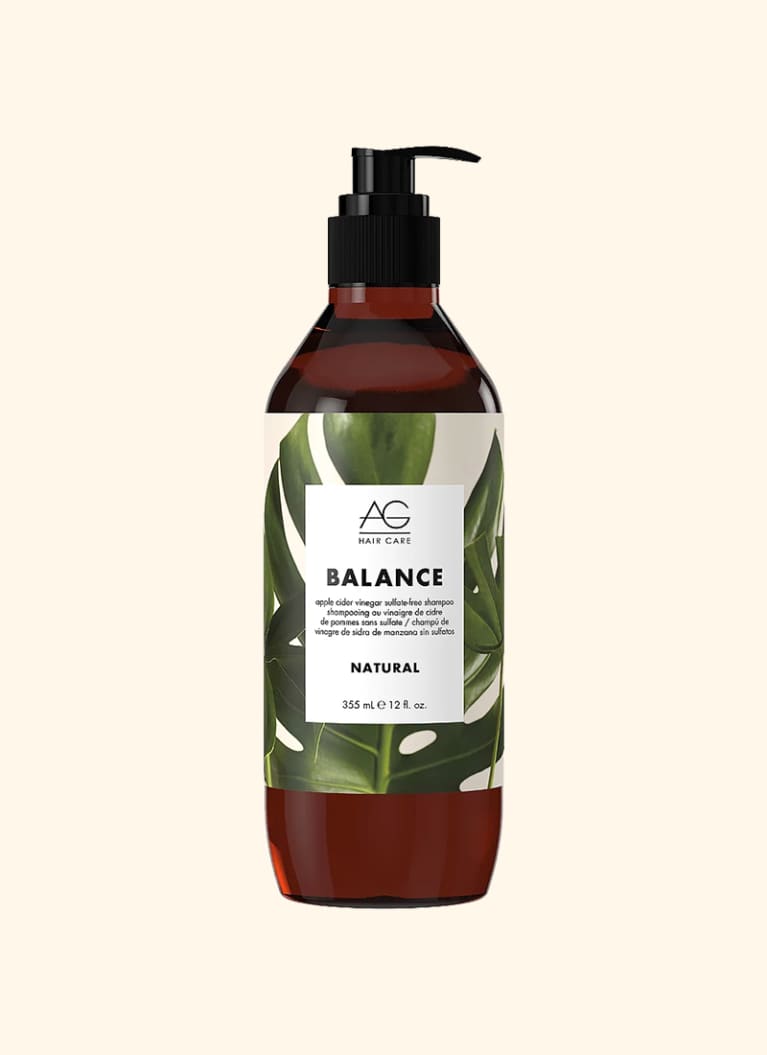 Apple cider vinegar is an excellent addition to shampoo because of its cleaning characteristics. It is especially beneficial because most shampoos are alkaline (as a reminder: Research shows that shampoos with a high pH contribute to dryness and frizz). As a result, you not only receive a deeper clean, but you also avoid the potentially dangerous side effects of a powerful shampoo.
Sulfate-Free Apple Cider Vinegar Shampoo, AG Hair ($30) by Natural Balance
Deep Wash New Hair Story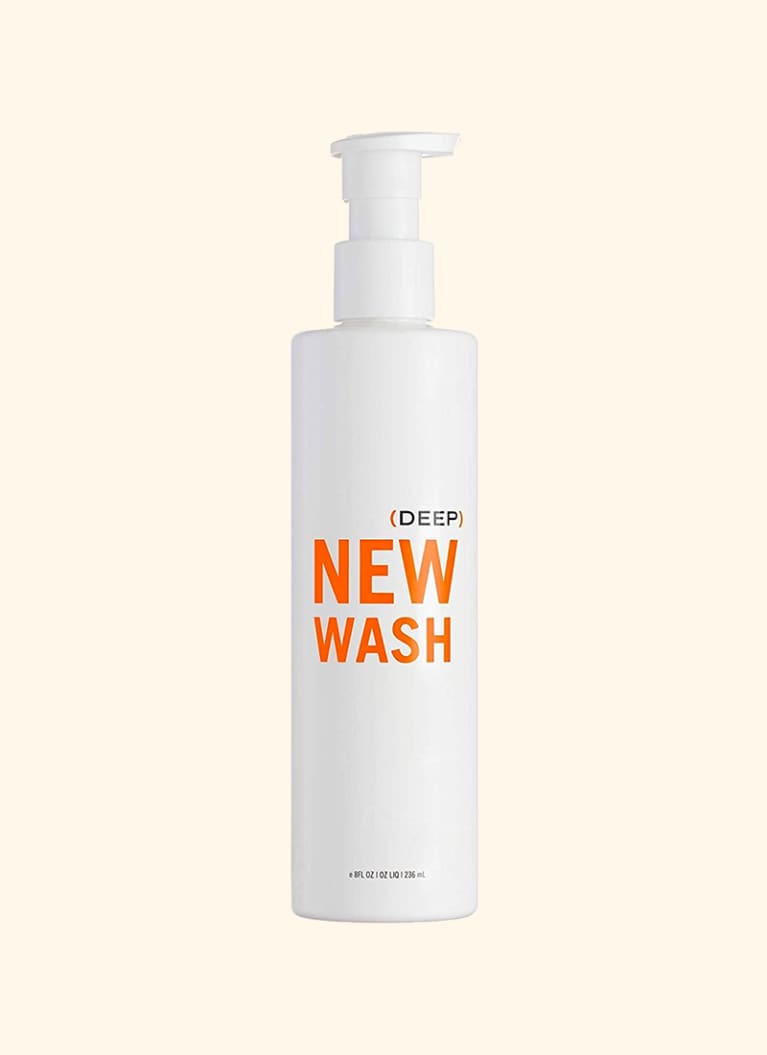 Hair tale gained a cult following for its unique approach to hair care: instead of shampoos and conditioners, they created a single solution that eliminates pollutants while hydrating strands. This option incorporates apple cider vinegar into the wash for a more aggressive clean.
Hairstory ($40) is a new wash that goes deep.
Detangling Conditioner with Apple Cider Vinegar from dpHue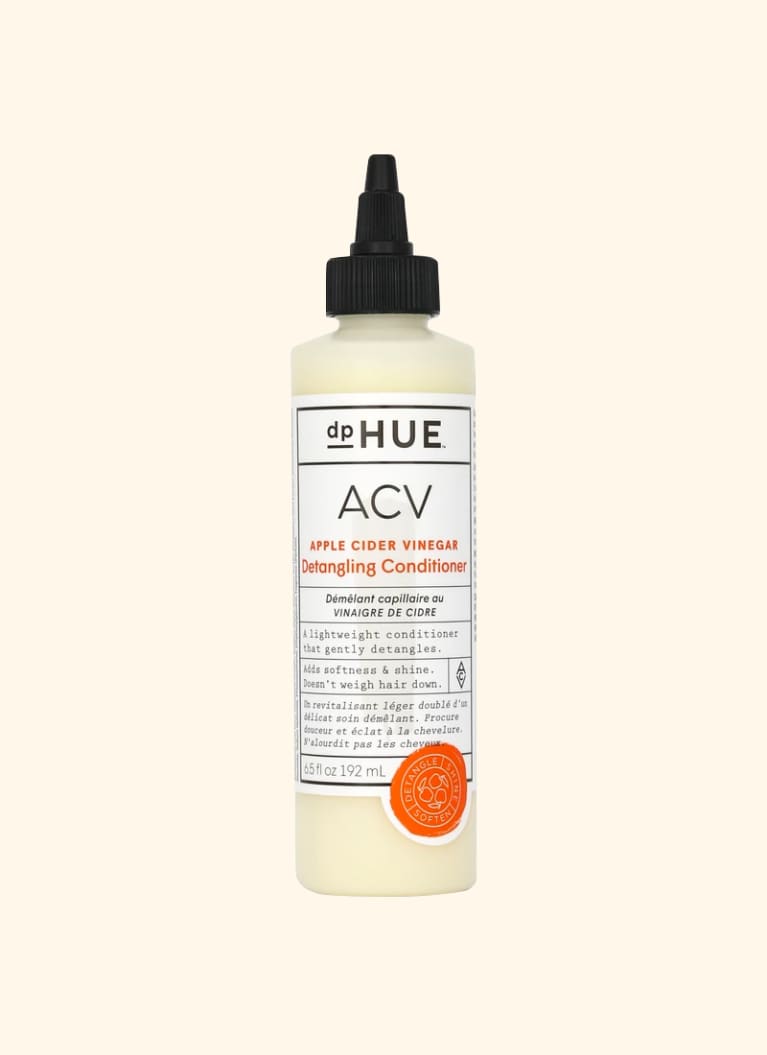 Although apple cider vinegar in conditioner isn't as prevalent as other detangling options, it's great for fine hair that might be pushed flat by ultra-hydrating conditioners or masks. (Or those who go without conditioner on occasion.) Argan and sunflower seed oils provide hydrating properties.
dpHue ($30) Apple Cider Vinegar Detangling Conditioner
Rinse with Beekman 1802 Apple Cider Vinegar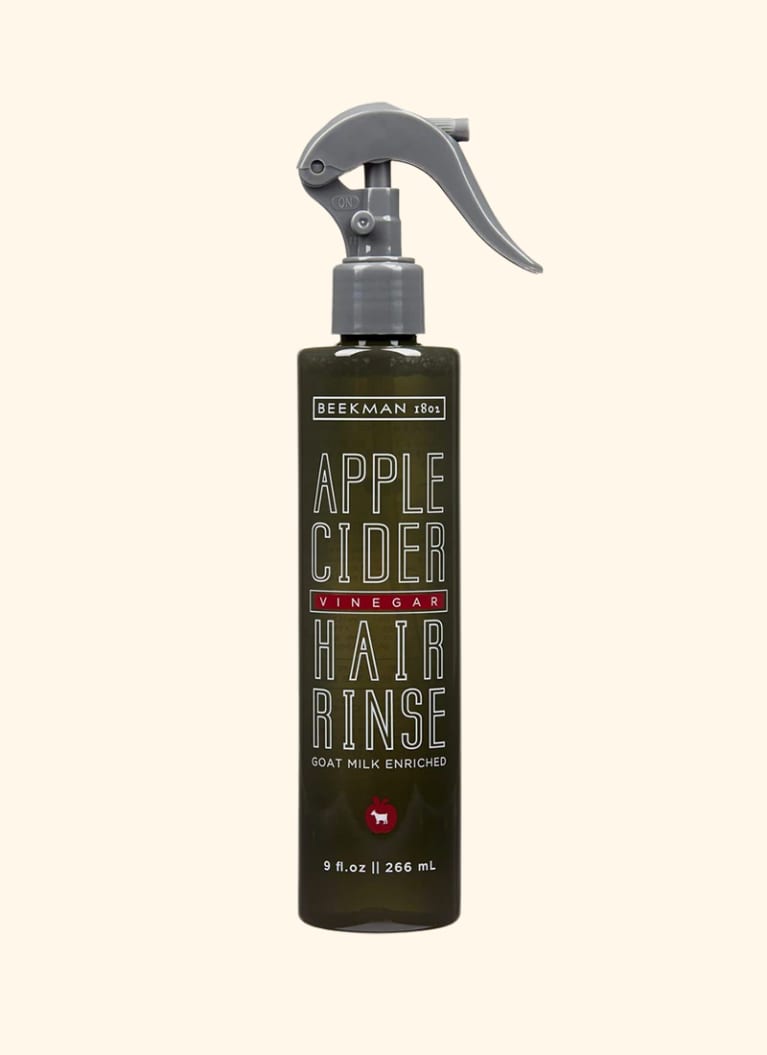 You can better disperse the rinse from scalp to tip before rinsing it because it's packaged in an easy-to-use spray container. (While some individuals enjoy using a squeeze bottle, others find it cumbersome.) Consider using a spray if this is the case.) It's also infused with moisturizing oils and aloe, so you may skip the conditioner if you want.
Beekman 1802 Apple Cider Vinegar Rinse ($30)
Cleanse Cantu Root Rinse with Apple Cider Vinegar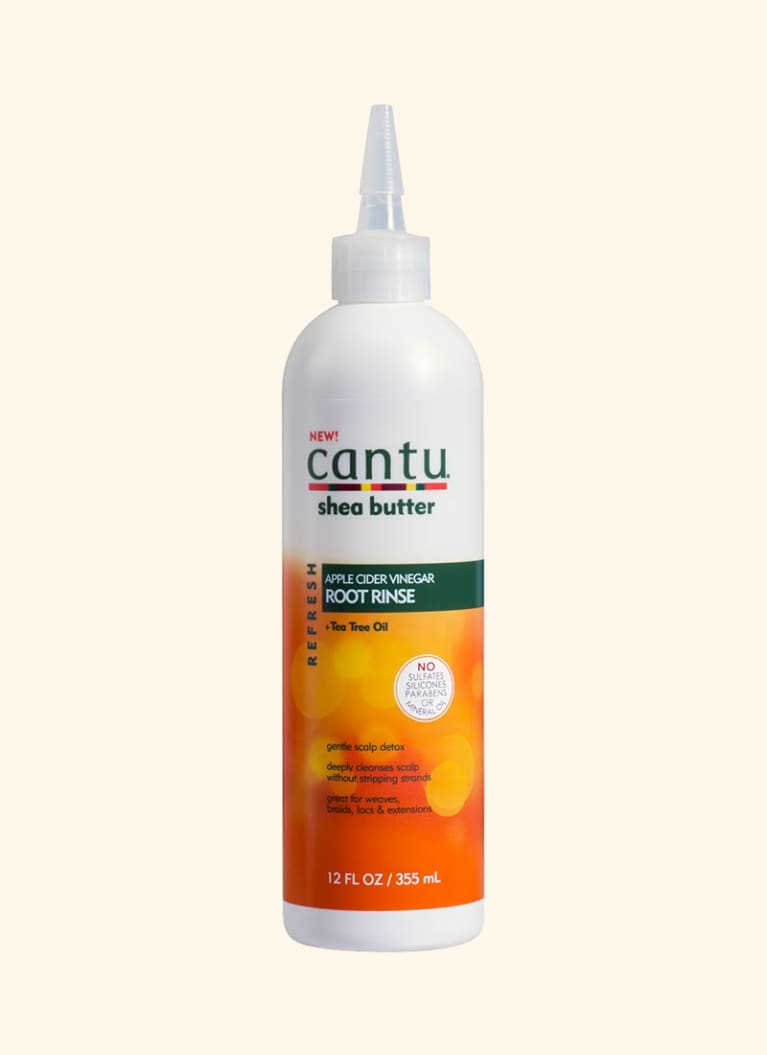 Protective hairstyles are essential for people with natural hair (as the name suggests, they help protect delicate strands). However, this can irritate the scalp: To deep clean and relieve inflammation, apply this straight to the scalp without washing or water.
Cantu ($4.99) Cleanse Apple Cider Vinegar Root Rinse.
Aveeno Apple Cider Vinegar Hair Blend Shampoo, Scalp-Soothing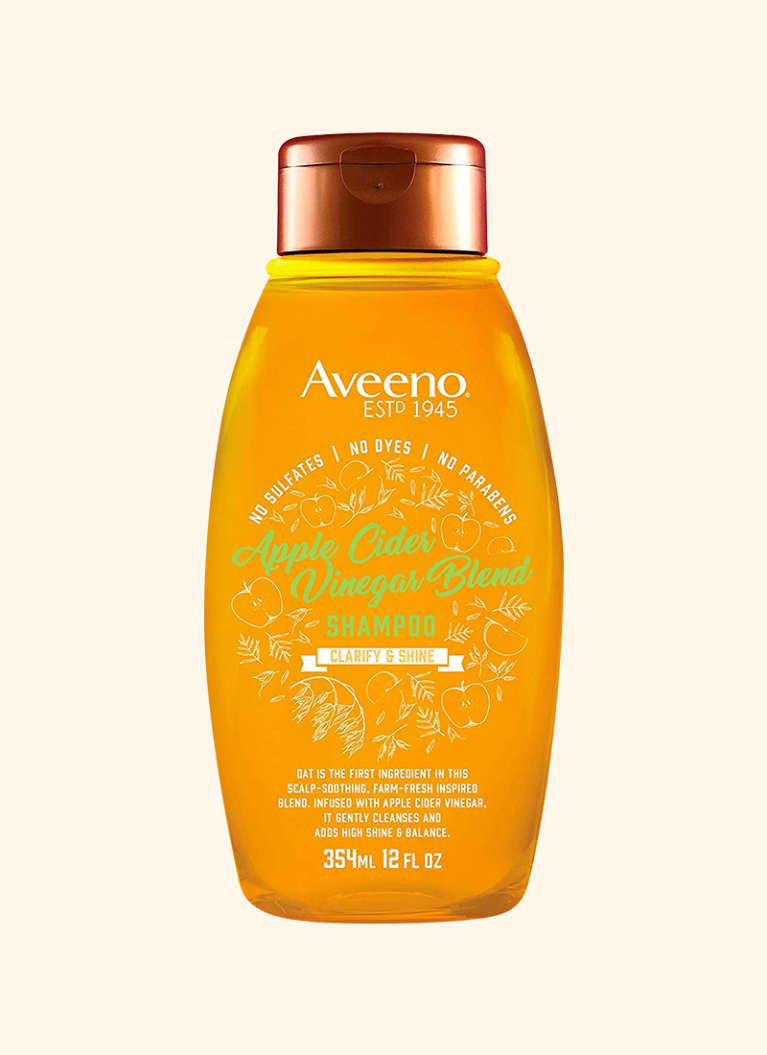 It will get your strands Capital-C Clean and is ideal for individuals with greasy hair. But don't worry about discomfort; this shampoo contains oat (a popular ingredient for sensitive or irritated skin) to keep your scalp calm.
Aveeno ($6.97) Scalp-Soothing Apple Cider Vinegar Hair Blend Shampoo
pH + Shine Corrector by sansCeuticals
Increasing the shine factor is another way apple cider vinegar may benefit hair health. The cuticle is raised when you wet and wash your hair. Dullness is associated with raised cuticles. ACV, on the other hand, can be used to seal the cuticle. It also contains vitamin B, which is an essential component for maintaining healthy hair.
sansCeuticals pH + Shine Corrector ($33.18)
The Bees and Beauty Shampoo Bar with Tasmanian Apple Cider Vinegar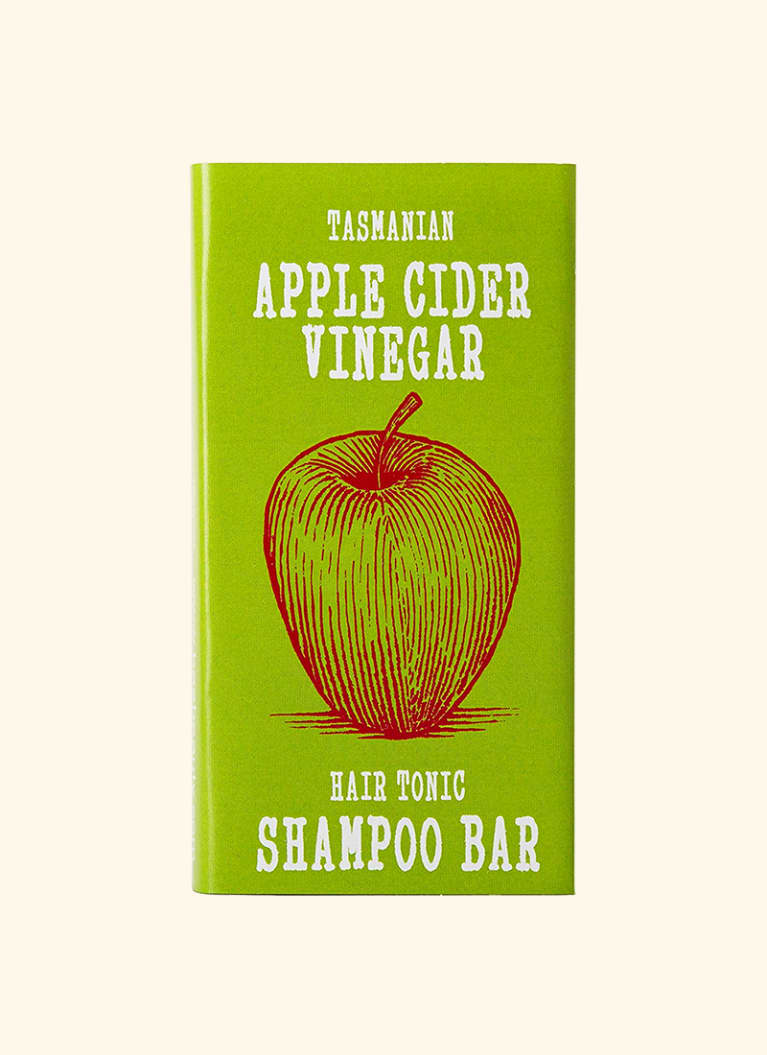 Do you like shampoo bars? But you're worried it'll make your strands too dry? An apple-cider-vinegar-infused solution may work for you. The problem with many bars is that they have a very high pH, some reaching as high as 9. The acidic ACH, on the other hand, will bring it down for improved hair health.
Beauty and the Bees ($13) Tasmanian Apple Cider Vinegar Hair Tonic Shampoo Bar
Herbal Cider Hair Clarifier & Color Sealer by John Masters Organics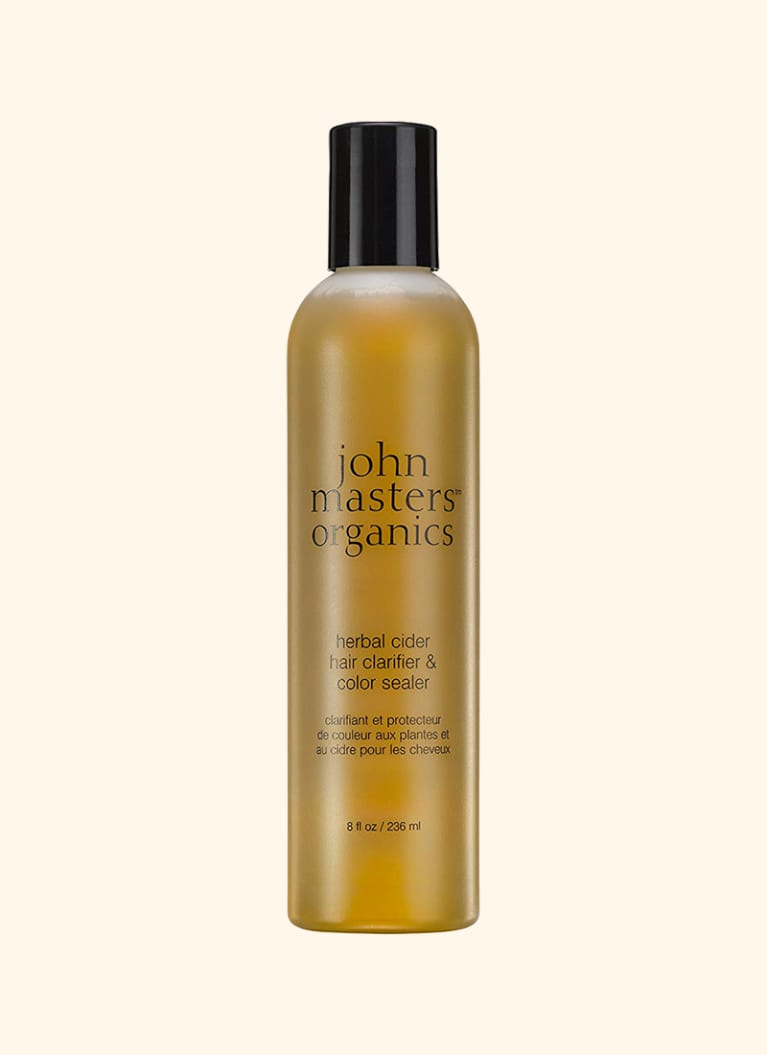 Some apple cider vinegar rinses are too harsh for color-treated hair types (particularly blonds), but this will not only clean hair in place of shampoo (which is also not excellent for color-treated hair types), but it will also help seal in color over time. It's also packed with lemon essential oil, which helps to remove any oil accumulation on the scalp.
John Masters Organics ($28.30) Herbal Cider Hair Clarifier & Color Sealer
Do you have any questions, thoughts, or experiences with using apple cider vinegar for hair care that you'd like to share? Please share them in the comments section! I'd be thrilled to hear from you!