Do you have a hard time with your hair being oily or greasy? Do you feel like your scalp is dirty and itchy all the time? If so, this blog post is for you. It will introduce 10 of the best clarifying shampoo brands that are gentle on the skin but tough on grease. Read below to learn more!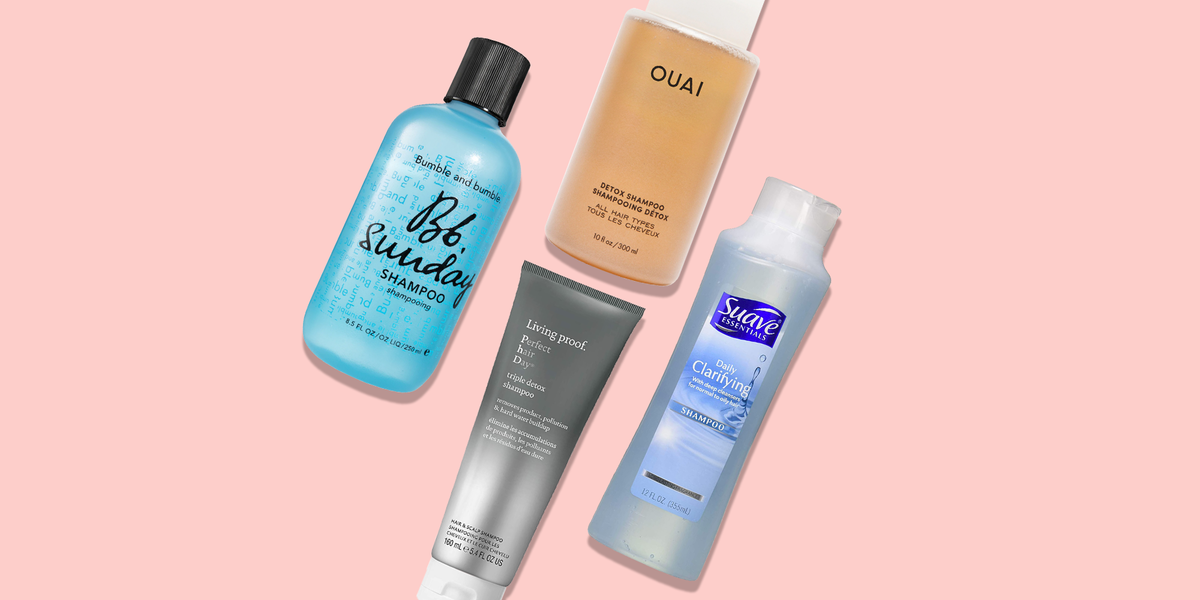 What Is a Clarifying Shampoo, Exactly?
Imagine Monica Geller (our favorite cleaning expert from the 1990s) coming into your home; thoroughly cleaning every nook and corner; while using a Q-tip to scour each dirt-filled crevice. Imagine doing the same thing to your hair, and that's precisely what a clarifying shampoo accomplishes. According to the in-house hair expert Krysia McDonald at Plaine Products, clarifying shampoos or purifying shampoos thoroughly clean and cleanse the hair and scalp. She continues, "They eliminate buildup from goods, chemicals like chlorine, and mineral deposits from hard water." Moreover, she added that these shampoos refresh and rejuvenate hair; and prevent bacterial growth on the scalp. Plus, they restore the natural PH balance and prevent blonde hair from turning brassy. In other words, clarifying shampoos remove all of the gunk that's accumulated over time; resulting in clean-cut, bright strands that are simpler to manage and keep their style for longer.
What Types of People Should Use a Clarifying Shampoo?
Clarifying shampoos are for anybody who feels like their hair is stuck in a rut or could use a boost of energy. You may benefit from a clarifying shampoo if you use leave-in style products, have naturally greasy hair, use hard water to wash it, swim in chlorine, or live in an area with high levels of air pollution. If your hair is color-treated or generally dry (for example, curly or textured hair), you should only apply this shampoo once or twice per month. It is because clarifying shampoos remove any residual deposits and part of the hair's natural oils, which can make your color fade faster and worsen dryness if used too regularly. That is something that no one desires.
How Often Should a Clarifying Shampoo Be Used?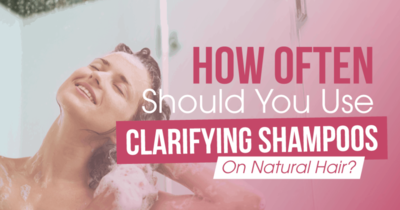 It is debatable. However, using a clarifying shampoo at least once every seven to ten days; will keep your hair looking and performing at its best; if you swim frequently, live in a region with hard water, shampoo less, or enjoy dry shampoos. However, if you use few hair products and have soft water at home, you can clarify every month.
How to Use a Clarifying Shampoo
It's crucial to let the shampoo stay on your head for a minute or two (particularly at the roots); so it can truly sink in and work its magic. Because most clarifying shampoos are manufactured without sulfates; which are responsible for producing that thick, soapy lather, you may find that specific formulation doesn't foam up. It is normal. Rinse your hair well after at least three minutes, and repeat if you believe your strands need more care. These shampoos are more forceful than regular washes; and leave the hair cuticles exposed; which can cause dry and brittle strands (your hair is being cleaned from the inside-out, after all). As a result, you'll want to use an excellent conditioner to help seal the cuticle; and prevent your hair from tangling and becoming unmanageable or dry.
Here are ten clarifying shampoos recommended by hair experts; for extremely bouncy, touchable strands now that you're up for breathing in some life back into your hair.
The following are ten of the best clarifying shampoos in 2021:
1/10 Best Choice Overall: Moroccanoil Clarifying Shampoo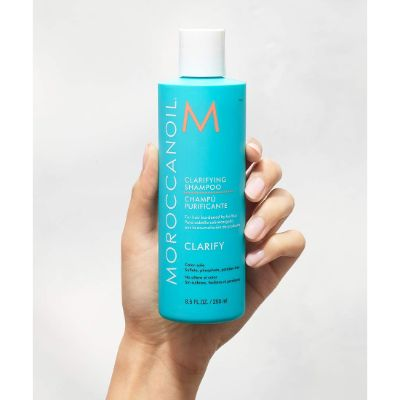 According to Toby Dash, creator of Five Star Skincare, Moroccanoil's Clarifying Shampoo works well for all hair types and textures; and may be used twice monthly as part of a regular hair care program. "This deep-cleansing solution removes everyday buildup and pollutants; while keratin, argan oil, avocado oil, lavender, chamomile, and jojoba extracts nourish deeply," he says. It's also packed with Moroccanoil's distinctive perfume, an exotic combination of spicy amber scents and sweet floral undertones; so your strands smell great while staying fresh and clean.
MOROCCANOIL Clarifying Shampoo $24.00 at Sephora
2/10 Best for Curly Hair: Ouai Detox Shampoo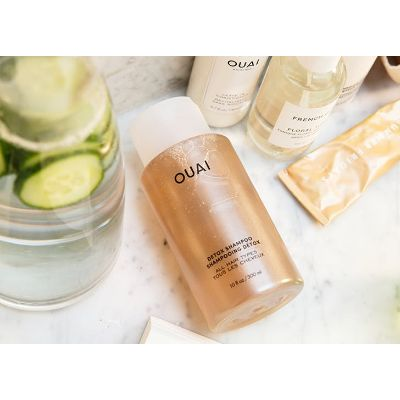 Ouai's Detox Shampoo is a must-have for people with curly hair since it removes product buildup while still giving unruly curls vitality and bounce. It contains apple cider vinegar to exfoliate and eliminate residue, as well as keratin to tame frizz. However, don't be fooled by the mention of apple cider vinegar. Its divisive smell gradually fades to reveal a lovely rose fragrance accented with bergamot, lychee, cedarwood, and white musk. When your hair smells (and looks) so wonderful, why needs perfume?
SHOP AT SEPHORA FOR OUAI DETOX SHAMPOO $30.00
3/10 Best Choice for Oily Hair: Amika Reset Clarifying Gel Shampoo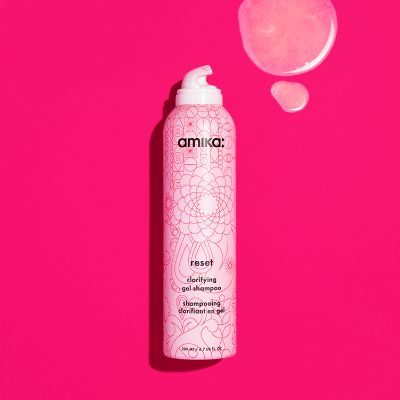 Amika's Reset Clarifying Gel Shampoo absorbs excess grease and eliminates unwanted buildup with oil-absorbing ingredients like pink clay and charcoal. The light gel-to-foam texture will not weigh down your hair and will leave it smelling and looking refreshed. Which is preferable?
AMIKA Reset Clarifying Gel Shampoo $25.00 at Sephora
4/10 Best Choice Application: Kristin Ess Purifying Micellar Water Shampoo
Hairstylist Essie Button refers to this Kristin Ess product as the "holy grail" of clarifying washes. It simply removes product buildup without drying out your hair and may be used several times each week without causing harm to your scalp's natural oils.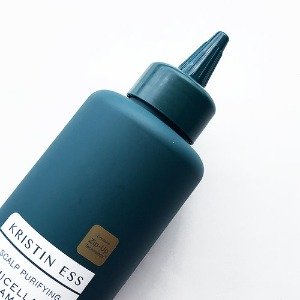 The easy-to-use nozzle applicator, on the other hand, is what truly distinguishes this shampoo. "It allows you to apply the shampoo right to your scalp and onto the roots for a simple application," Button adds.
ULTA BEAUTY sells KRISTIN ESS HAIR Scalp Purifying Micellar Shampoo for $12.00.
5/10 Best Choice for Serious Buildup: R+Co Oblivion Clarifying Shampoo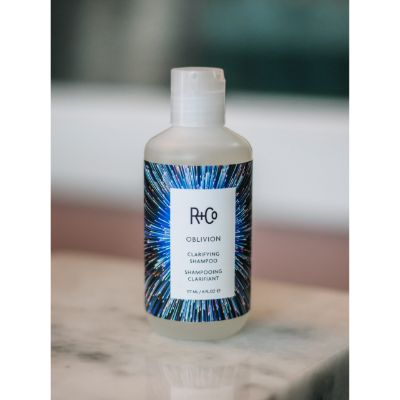 "This shampoo means business," says Julien Farel Salon and Spa stylist Jackson Simmons. Its hair-purifying properties are blended with hazel, rosemary leaf extract, and tea tree oil, which cleanses and removes unwanted buildup in one wash.
It also includes coconut oil, which helps to moisturize and mend damaged strands while also providing a tropical aroma to your hair. This shampoo is for you if your stands are desperate for a deep clean or if you use a dry shampoo at least thrice a week.
R + Co Oblivion Clarifying Shampoo $27.00 at Dermstore
6/10 Best Choice for Thick Hair: Oribe The Cleanse Clarifying Shampoo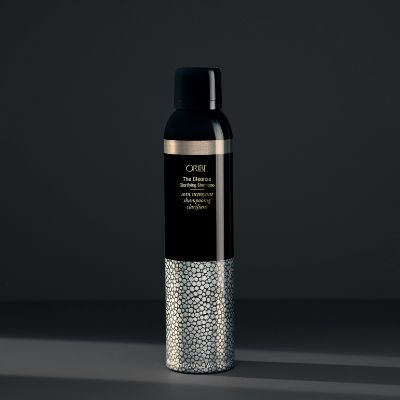 The first thing you'll notice about this clarifying shampoo is its unusual packaging—an aerosol that transforms into a thick mousse. When dispensed, it forms a rich, creamy foam ideal for reaching even the thickest manes. "It's a high-quality cleaning mousse that combines sea kelp, volcanic ash powder, and eucalyptus oil," says hairstylist Monica Davis. This combination gently exfoliates the hair and scalp while eliminating debris, oil, and product buildup. "The lightweight, fluffy texture allows you to simply apply the product over your strands and swiftly eliminate any density buildup," she continues.
ORIBE The Cleanse Clarifying Shampoo $44.00 SHOP at Sephora
7/10 Best Choice for Fine Hair: Kiehl's Amino Acid Shampoo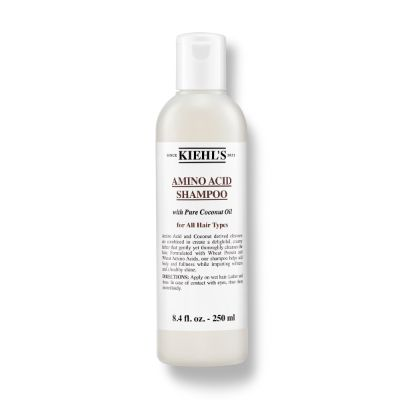 While some clarifying shampoos may be harsh on fine hair, Kiehl's Amino Acid Shampoo is a gentle formula that eliminates residue while preserving delicate strands.
"It's a little less abrasive than other clarifying shampoos and is fantastic at balancing pH levels," Simmons says of this shampoo for thin hair. It contains amino acids to cleanse the hair and coconut oil to provide softness and shine, making it mild enough to use every week.
KIEHL'S Amino Acid Shampoo $20.00 at Sephora
8/10 Best Choice for Textured Hair: Twisted Sista Luxurious Clarifying Shampoo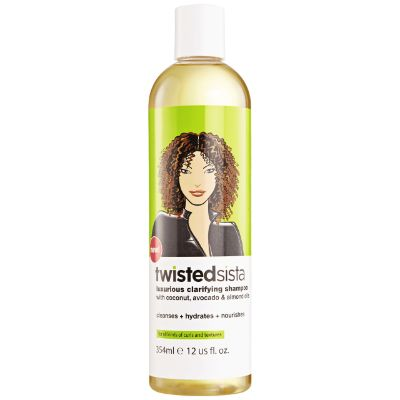 Twisted Sista Luxurious Clarifying Shampoo is specifically formulated for textured hair and is made from nourishing coconut and avocado oils for an added boost of hydration and intense moisture. It also includes almond oil, which helps prevent damage, and it is devoid of sulfates, parabens, and phthalates, making it mild enough to use every week. This shampoo is popular among users since it does not leave hair knotted or dry, making combing and brushing through strands a breeze.
TWISTED SISTA Luxurious Clarifying Shampoo $10.00 SHOP at Amazon
9/10 Best Choice for Color Treated Hair: Living Proof Perfect Hair Day Triple Detox Shampoo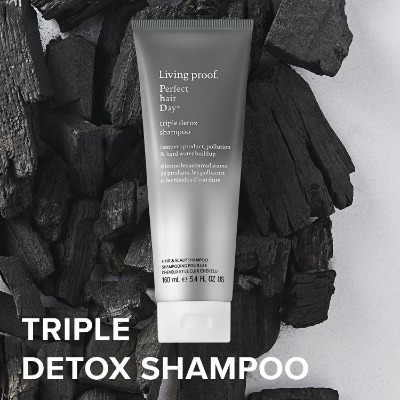 You may still use a clarifying shampoo if you color your hair, but only while it's fresh. However, you can use a gentle shampoo after a few days, such as Living Proof's Perfect Hair Day Triple Detox Shampoo. An anionic polymer removes product residue, chelating agents bond to dulling hard minerals; charcoal absorbs excess oil and sulfate-free surfactants deep clean strands; without causing color damage.
LIVING PROOF Triple Detox Perfect Hair Day Shampoo $29.00 at Dermstore
10/10 Best Choice for Sensitive Scalps: Christophe Robin Cleansing Purifying Scrub With Sea Salt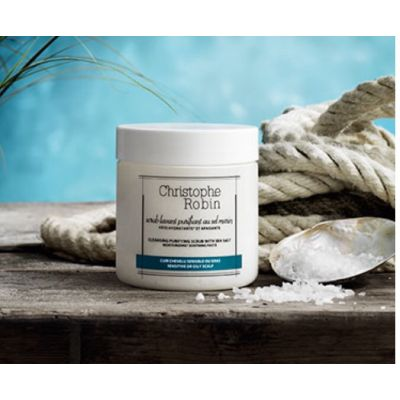 This Purifying Scrub With Sea Salt functions as a shampoo as well as a mild scalp scrub, penetrating the roots and deep cleaning strands without drying or irritating your skin. This shampoo is popular among users due to its seductive scent (a combination of sea salt and sweet almond oil) and ability to treat dandruff and irritation.
Furthermore, a little goes a long way, allowing you to keep it for months of usage (unless you get addicted, of course).
CHRISTOPHE ROBIN With Sea Salt Cleansing Purifying Scrub $53.00 at Sephora
Conclusion paragraph: We've provided you with a list of the ten best clarifying shampoos that we believe will help get your hair back to its natural, shiny state. Do let us know which one is your favorite?